Undoubtedly, Gibb's reflective cycle is one of the most prominent models of reflection that is used by students nowadays. Walking through different stages, students get directed to a fixed experience through using this reflection model.
Gibbs reflective cycle 1988 is a design that was designed under the supervision of Graham Gibbs. The primary aim of this model is to give a proper structure to knowledge and understanding by utilizing experiences. Divided into 6 stages, the reflection cycle is one of those topics that give nightmares to students, when it comes to writing assignments using this cycle.
My Assignment Services is a renowned organization that has an abundance of professional nursing assignment help experts. Catering to all the doubts of students and providing them with instant answers, we have been habitual in providing help with nursing assignments to students globally. Over the years, several students have contacted us to get guidance on Gibb's learning cycle and we have never let any of their queries go unanswered from our end.
What Are The 6 Stages Involved In Gibb's Reflection Model?
Gibb's reflective cycle covers 6 stages. Over the course of time, our nursing assignment writers have provided relevant academic assistance to students on this model and helped them attain a thorough understanding of all these stages.
Gibb's model of reflection has proved to be one of the most potent tools in writing impeccable nursing reflection assignments. We hold scholarly degrees in nursing from a variety of reputed institutions across the globe that has enabled us to gain a thorough knowledge of all of the stages involved in Gibb's model.
The following are the 6 stages that Gibb's reflective cycle covers.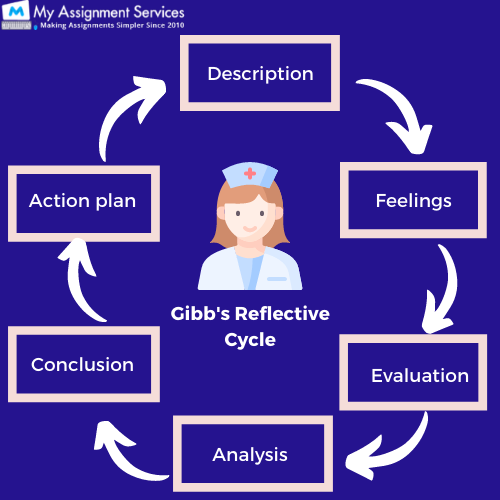 As you can see in the image above, these steps are carried out when we apply the reflection model while writing the assignments.
1. Description
The first stage of this reflection model is where a student has to describe the entire experience.
2. Feelings and thoughts
After discussing the experience, the next step is to highlight the feelings and thoughts that the student faced during the experience.
3. Evaluation
The third stage involved in Gibb's reflective cycle is to evaluate the experience. This stage is characterized by elaborating upon both good and bad experiences that students come across in the clinical setting.
4. Analysis
After evaluating the experiences, it requires a thorough analysis of the experience to get an idea of the present situation. Based on it, new decisions are made for bringing improvement.
5. Conclusion
As per our nursing assignment help experts, the conclusion is the most vital part of Gibb's model of reflection. In this section, students are to talk about learning in the entire process and suggest some alternative ways to bring changes in the current clinical practice. Or in other words, the conclusion part helps us to reach the solution of the problem that is being catered to through Gibb's reflective cycle.
6. Action plan
The last and the final stage in this reflection model is the action plan. The final step involves working out for new ways to work more effectively in the future, in case, we again face similar situations.

This brings an end to Gibb's model. Let us understand this better with the help of Gibbs reflective cycle example that has been used by one of our nursing assignments to help experts to solve an assignment that a student sent to us recently.
Gibb's Reflection Nursing Assignment Sample Drafted By Our Nursing Assignment Writers 
This is the nursing reflection assignment sample that was received by us recently. This is based on Gibb's reflective cycle that has been recently discussed.
The 6 stages of the nursing process have been covered in this assessment answer.
This is how we begin these assignments- by giving a description of the experience that students have gained in their specific clinical setting. Thereon, our nursing assignment help experts proceed with the rest of the stages of this Gibb's reflective cycle. After this, we come to the feeling section.
After this, the remaining stages of this model are discussed. This way the sample that we have created can be used as Gibb's reflective cycle reference for different types of questions that can be written with the help of this model. In case, you face any issues in writing a nursing reflection assignment, then we are available 24*7 to assist you with instant answers.
Get In Touch With Our Professional Nursing Assignment Help Experts And Get A Thorough Understanding Of Gibb's Reflective Cycle!
My Assignment Services have played a paramount role in the lives of students who find it tedious to understand various nursing concepts and apply them in their assignments. Our dedicated panel of nursing assignment writers is Ph.D. scholars who have been serving students for the last ten years with high-quality academic assistance.
We know how pivotal is Gibb's reflective cycle for writing nursing reflection assignments and this is why we have an amazing range of benefits for students who place an order with us.
Some of them include:
100% authentic work with Turnitin reports
There's no better way to check the credibility and authenticity of our work other than checking it yourself with the help of the Turnitin report that we provide you with each of the assignments. For us, delivering 100% original work is the priority and we put in conscious efforts to do that for students.
High-quality work promised
In order to maintain the quality standards in our work, we make it a point to pass every assignment through a rigorous process of quality check that contains 21 steps. Only when we are sure that all the standards are met, we deliver the work to students, right at their doorsteps!
So, contact us today and get in-depth guidance on Gibb's reflective cycle from us within a few hours!