Hectic workloads, clinical practice, and exhausting night shifts, these are just some of the traits associated with the schedule of a registered nurse (RN). Becoming an RN is not an easy job; it requires juggling between all the priorities and schedules to deliver safe and sound healthcare facilities to the patients.
Writing a nursing dissertation is one of the most tedious challenges that nursing students come across. Not just because of the length of the assessment, but also because students get confused about how to choose a nursing dissertation topic for their work.
Therefore, in this blog, our nursing assignment help experts will be clarifying all your doubts regarding nursing dissertations and also give you certain tips to write impeccable dissertations in nursing and leave an everlasting impact with them.
Capture the Essence of a Nursing Dissertation With These Easy Tips!
Amidst all the hectic day-to-day tasks, you ought to quell the evil spirits of procrastination and welcome the angels of writing the dissertation for starters. And if you're confused on how to go about with the rest of the dissertation, then, we have got you covered. But first, have a look at the infographic below to know the 7 steps to choose the dissertation topics effectively.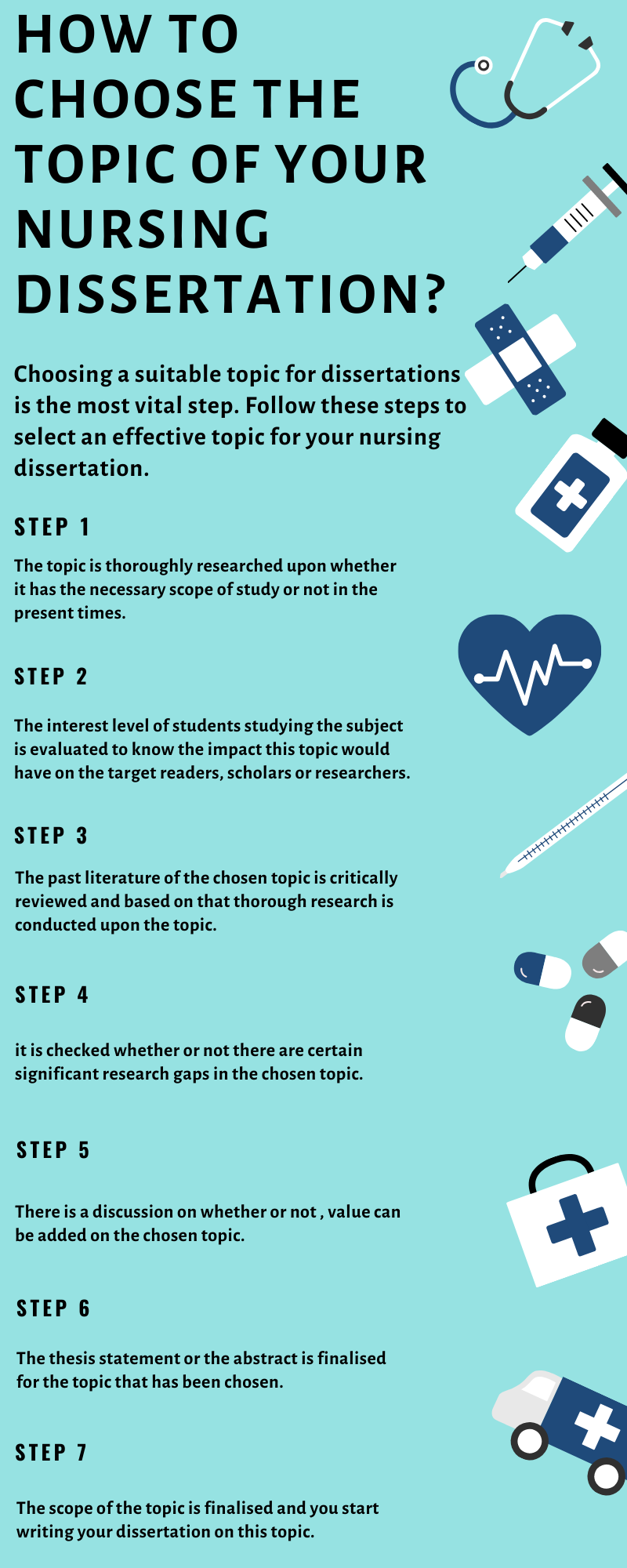 We all know how important choosing a topic for dissertations is. Thus, we hope this infographic will help you in selecting a suitable topic that would be the foundation for your dissertations. Now, our nursing assignment writers will be sharing some tips with you that will assist you in getting off the edge and produce praiseworthy nursing dissertations.
Ready? Let's get started.
1. Be Organised
Regardless of the deadlines, just begin with your dissertations as soon as you get it. It is never soon to start with your dissertations for you will realise that you are always short of time in the end. Being a nursing student, you already are aware that you need to submit a dissertation in the final year, so why not begin early?
Gradually, start looking up for the topic, research papers, possible questions etc to escape the chaos at the last hour. Our nursing assignment help experts have a repository of topics, questions and data in-store due to this habit.
Be organised and be prepared to avoid chaos at last.
2. Prepare Well
Before beginning to write your dissertations, you need to be equipped with every relevant information about the topic you choose. For this, you have to be well prepared from the initial stage. Composing a praiseworthy nursing dissertation cannot be possible if there are no preparations made from your end.
As per our nursing assignment help experts, students must explore a plethora of literature review materials to broaden the scope of their dissertations. Also, we advise them to rely strictly upon only the credible and authentic sources for information.
As long as you can explain and critique the literature sources in your dissertation, you will get massive brownie points for it. And this comes with a rigorous preparation, isn't it?
3. There's no Harm in Getting Help 
Ultimately all that matters is your grades, isn't it? And no one of us would ever afford to lose out grades, just because we lacked professionalism.
Thus, if you are struggling with writing a nursing dissertation, you can always knock the doors of the library in your university. If the problem persists, then what are we for? Our nursing dissertation help experts have produced some unmatchable nursing dissertation samples for students encompassing a variety of topics and concepts that are crucial for students enrolled in this field of study. So, you can just send us the requirements and we will send the reference dissertation in your inbox within a few hours!
4. The topic must be the One that You are Passionate About
It is quite evident that you're going to spend an enormous amount of time working on your dissertation. Naturally, you won't like to waste it on something which you have no interest in. The procedure of drafting a dissertation will drain your soul, so why not make the most of it and write the dissertation on something that you are passionate about?
Several students have approached us to know the best nursing dissertation topics. We have advised them to choose something that they can relate with, during their practice or something that will be handy when they get into their job roles.
Some of the dissertation topics in nursing that we have suggested students are as follows:
The slackening of cognitive degeneration in the context of Alzheimer
Role of play therapy for autistic children
Complications of childbirth for overweight females
Reformation in the healthcare process for old aged-people
Oxygen therapy for patients suffering from cardiac disorders
Just like these topics, you can go on exploring your niche and choose a topic that fascinates you.
5. Break down the Task into Small Units
Needless to say, writing a nursing dissertation is not a child's play. It entails several steps that demand separate attention and effort. Thus, our nursing assignment help experts always focus on each task separately.
Similarly, we advise students to break down the entire dissertation into small doable chunks that they can manage easily. Not only will it become much easier, but also it will help you spend less time worrying about the rest sections of the dissertation.
When you have set goals for each section, you will come out achieving them more easily.
6. Familiarise Yourselves with Every Word that You don't Understand
We all might have fallen into a situation that was no less than bizarre when we used some word, the meaning for which we didn't know. Well, when we rely upon the works of prestigious scholars or authors, it is bound to happen.
But, there's always a way out to it. As and when you use any word that you are not sure of, just refer to the internet or dictionary to help yourselves know the meaning of it. Our nursing dissertation writers have a habit of including only those words in the dissertation that they know.
When you are aware of what all you are using in the dissertation, presenting it forth the audience becomes much easier. So, make it a habit to find the meanings of all the terminologies that you have used in the dissertation so that you don't get embarrassed later.
Confused About Referencing Your Nursing Dissertations? We Are Here To Help You!
Other than these tips, our nursing dissertation help experts have also helped students in equipping themselves with techniques of incorporating references easily in their works. If you have been looking for tips to write nursing dissertations easily, then we hope this blog helped you. Are you still confused with certain elements of a nursing dissertation? With our live one-on-one sessions, we will clarify them as well for you.
My Assignment Services has been standing firm in this academic industry for over a decade now. Having provided high-quality academic assistance to students globally with comprehensive nursing dissertation examples, case study samples, essay, and report writing samples, etc, we have made it easier for students to aim for excellence.
So, give us a call right away to place your order with us or to know more about our value-added services.
Looking for Assignment Help?
Get it done Today