There are many types of essays, and students have to know them all, as well as understand the difference between them. What to do if a professor assigns a persuasive essay to you? Don't panic, here you are going to discover the finest guide on drafting persuasive essays, covering the tips on picking up a topic, outlining your essay, organizing it step by step, and demonstrating well-built arguments to convince readers of your stance, and examples /additional resources to check for better essay writing. So, here we go!
Let's decipher the Term "Persuasive Essay"
Before we further proceed, it is really significant for you to first gather substantial knowledge about the persuasive essay? Well, a Persuasive essay is one that uses logic and arguments to convince readers of your point of view, thus it solely becomes the writer's responsibility to include well-built evidence for arguments such as research, mentioning facts and figures, examples, quotes from experts and logical reasons in order to support the arguments. So if you are asked to draft a persuasive essay on the topic of "failing in an exam", just stick to the guidelines we are going to share with you while drafting your essay, but if you still face any difficulty you can have a word with our essay help expert and rectify the issue in a fraction of second.
Step By Step Guide to Draft A Perfect Persuasive Essay
To start drafting a persuasive essay, all you need to do is to follow these simple steps:
Always think twice before selecting a particular side as you have to write the entire content on it that too with supporting arguments. Clearly identify your point of view that will help in establishing your arguments and be aware of opposing arguments that you might face, for that prepare yourself in advance.  For the topic "Failing in Exam", you can initiate your essay stating that failure is not a means to an end, nor does failure have to give any indication of permanence. What is permanent is not getting started in the first place out of fear of failure. To fail is to fail to hit one's target, whatever it may be, but it doesn't prevent one from trying again.
Be aware of the mindset of your target audience– 
Does it go without saying that before drafting an essay, article, or any paper whether it's academic or non-academic, it is essentially requisite to understand that who is going to read it? Are they capable enough to understand the terminology you are using or how they will perceive the thoughts you are going to put it down in black and white? You should curate the essay as per the readers' comprehension abilities while also considering their perspective on the same issue as yours. If you fail to do so, don't hesitate to ask for the assistance of our essay help experts.
Conduct thorough research– 
In order to back up your argument and cram the essay with evidence and facts, you have to conduct meticulous research before writing a persuasive essay. But it is not literally enough to convince a reader who is specially appointed to analyze your convincing abilities. Thus, our essay help experts suggest that you should conduct research on the opposing topic as well in order to assess both the sides and present your arguments accordingly.
However, our essay help experts recommend that you should be extremely careful while choosing online resources for the accumulation of data, evidence, etc. Only go for those resources that are authenticated, such as peer journals, renowned author's textbooks, etc.
In what manner you should proceed to draft an ideal persuasive essay?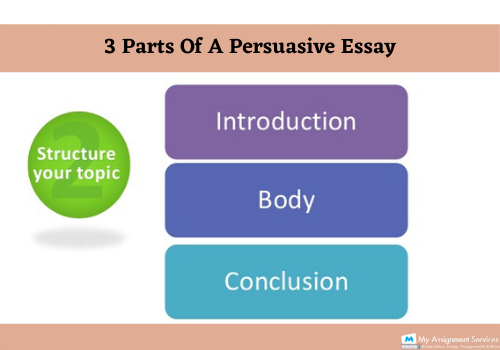 As soon as the initial requirements are covered, you must proceed with the key section of drafting the persuasive essay. It initiates with devising a suitable outline.
Before even crafting the first word of your persuasive essay, you must have an appealing outline for the same in your mind that can certainly give you a particular direction for drafting the entire essay in a logical and chronological order. The outline basically incorporates the three prime elements that are the introduction, body paragraphs, and at the end the conclusion.
Our essay help experts insist you write your persuasive essay in the following order along with a few examples.
Introduction
In order to draft a persuasive essay that is appealing to the reader's eye, one must give considerable thought to creating a fabulous introduction.
Our essay help experts recommend that one should initiate the introductory part with a hook to get a firm hold of the reader's attention. So you must put some stats or quotes at the beginning that will certainly encourage your reader to continue reading your essay without losing interest.  Following this, clearly demonstrate the overview of the argument you are going to make in the essay while giving a hint about your viewpoint on the topic. However, it's better if you keep it as succinct as possible.
After diligently drafting a few lines about how you perceived the issue, you must make them aware that how are you going to establish your argument while giving them an idea about the conclusion of the essay. Now conclude the introductory part with a proper transition to the body paragraphs.
Body Paragraph
Every section of the essay body must emphasize on each part of the thesis statement that backs up the argument. You must include facts and references to strengthen your claim. A body paragraph must start with a topic sentence, an example or supporting evidence, lastly explain how it supports the specific claim and connect back to the primary argument.
Our essay help experts suggest that you should utilize the body paragraphs to include the views that oppose your argument so that you can abreast substantiate your points at the time without leaving any question in the reader's mind.
Conclusion
You should conclude your persuasive essay that can leave a positive and good impression on the reader's mind. Make use of the concluding part of the paper to recast your thesis statement or present an abstract of the key points while discussing the topic in a widened context and then end the paper with suggesting or appealing for an action that should be immediately taken.
Feel free to contact our essay help expert in case you are finding it difficult to draft a top-notch persuasive essay.  My Assignment Services is a one-stop destination for all your queries related to an assignment such as essay, report, reflection, marketing plan, and more. Call or text our customer service representatives today and found out more about our services!
Looking for Assignment Help?
Get it done Today