Unlike the popular adage, Your dissertation will be judged by its cover page. Many students who contact us to seek online dissertation writing services have common queries such as "What should be on the first page of my dissertation" or "What is a title page in a research report?"
To resolve common dissertation-related student questions, we decided to ask an expert. Jeffery is a Ph.D. from the University of Westminster who has double Masters in Business and Management. He has been a professional dissertation writer and proofreader with My Assignment Services, UK, since 2012. Here are his expert feedback on creating an academically legit Dissertation Cover Page.
Q – What format should I use to write my Dissertation Cover Page with APA style of referencing?
Ans.  – The cover page of your report differs as per your chosen citation format. If you have written your report using APA style of referencing, a cover page is a must whereas with an MLA style you need to only include a header. Although this requirement changes as per your evaluators and university's guidelines. In both styles, strictly avoid usage of bold letters and pagination on your Dissertation Title page or running head as it will go against the academic writing rulebook.
Both MLA and APA formats play with common rule-set and both styles recommend:
Usage of  Times New Roman Font in 12 point size.
Double spacing between letters.
1inch page margins (on all sides)
However,  there are some key differences between APA and MLA styles when writing your dissertation cover page. Let me first illustrate the perfect format using an example of Dissertation Cover Page in APA format.
Structure of Dissertation Cover Page using the APA formatting style
The first page of your dissertation must have your report title in Capital letters with centre page alignment. It is important and should be the first thing that your examiner sees.
The title page also needs to have your name written on it and you must leave a minimum of four (4) line space after your title. Write your name in Caps with the centre alignment of the letters.
 The next line should about the document type (dissertation in this case)
Followed by your study department and institution (University or college name)
Your study program. ( example – Master of Pharmacology)
And finally the date of submission.
Image example: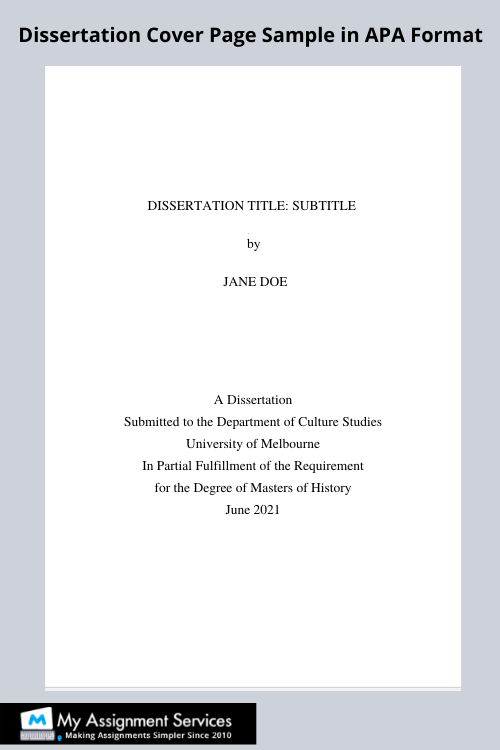 Q – How to write a Dissertation Title page with MLA referencing style?
The first page of your dissertation should by default have these formatting features if you are using MLA format to prepare your thesis report :
Times New Roman font (12pts)
1-inch page margins.
Double Line Spacing
New Paragraphs should have ½" inch indent.
Using Title case capitalization for all Headings.
Writing the Title page and Heading of your Dissertation Report (MLA style)
Unlike the APA style, headings in MLA format are left-aligned. In most cases, MLA style does not require a Title page although some universities and examiners may demand it and will mention this separately in the dissertation submission guidelines.  The cover page in MLA style thus must include a four-line heading on the first page of your report. The headings are to left-aligned with double space between words and should list the following:
Your full name
Your faculty mentor or supervisor's name.
The course name (that you are pursuing, in some cases, you may have to write the numeric code assigned to your study program)
Your assignment's due date.
Q- How should I write the running head on my dissertation cover page?
Writing a running head in your dissertation assignment is a standard practice with both referencing styles and most universities will approve of these respective formats:
For MLA style of formatting, your running head must include your Surname and Page Number. Both should be right-aligned.
When using APA format to curate your dissertation, running head is essentially the title of your paper or the first 50 words of it. It should be in capital letters and left-aligned while the page number should be right-aligned.
With APA style, it is mandatory to that the words "Running Head" are visible before your report title.
Q -Should I hire An Online Dissertation Proofreading Service?

Submitting a well-researched dissertation has a prime significance. Your dissertation is the result of prolonged hard work, you have put in as a scholar. It is also likely that you may have made some common mistakes in formatting or with grammatical errors that are easy to miss. It is not only wise to hire academic experts to check such common dissertation errors, but it will also invariably lead to better grading of your report.
Ph.D. experts at My Assignment Services can help with editing or proofreading your dissertation with accuracy. We are one of the oldest and top-rated assignment help services in the world and have aided thousands of university scholars such as you in clearing their assignment with A+ grades. Check out some reasons, why you should hire our experts to write your dissertation for you.
Ph.D. Experts only – Only a subject matter expert with double masters will tend to your report.
Direct online chat sessions with the expert from the comfort of your home and at your convenience.
Student-friendly prices that you can easily afford.
Live tracking of your assignment progress through our live hi-tech student portal.
Round the clock assistance by our dedicated customer support team.
Avail our dissertation writing services in the UK by filling the online form or simply start a chat with our expert to place your assignment order online. It only takes a few minutes. Sign Up Today with us for all your assignment needs and get attractive early bird discount offers on assignment writing services.
Looking for Assignment Help?
Get it done Today