Cultural safety, an advanced idea of nursing communication and behavioral approach has been designed in the era of the 1980s for providing better ambience and security to those people who have long been outcast from the health industry, the aboriginal people. Not only health care safety, cultural safety – the unavoidable concept of inclusiveness includes some important multiple discourses like identity recognition, exchange of knowledge and experience, sharing respect, and multiple perspectives instead of a single stereotype.
The concept of cultural safety inculcates the idea of including people from diverse cultural groups unrecognized or ousted for years from the domain of modern health. One reason behind this is this racism, another important cultural cause was unfathomability about their behavior and the socio-cultural-linguistic ability to identify their requirements. The world is changing in the era of globalization so let's not rant about the old squalor! The new idea with new vigour helps a nursing student see "other" culture open-mindedly, patiently, and without a judgment from the perspective of his/her own culture.
CHCECE001: Developing cultural competence and CHCDIV002: Promote Aboriginal and/ or Torres Strait Islander cultural safety assignments are to be studied and prepared in the context of Cultural Safety to understand a better module of the paradigm of cultural behavior in a small group or workplace or to define a broader concept of the cultural safety for the Aboriginal people or the people of Torres Strait. Assignments on this topic seem to be quite tricky. You may hire professional help from My Assignment Services to prepare a brilliant paper as this assignment also gives a scope to get a great score if you can get assistance from an adept expert.
To Write the CHCECE001 and CHCDIV002 Assignment Answers, You Must be Familiar with a Few Concepts
Some important nuances must be taken into cognizance while studying Cultural Safety in the context of Nursing. As an experienced nursing assignment help expert, I suggest that you get a good grasp of these concepts for writing CHCECE001 and CHCDIV002 answers:
Reflection of own Cultural identity and biases.
Identification of various cultures and developing competencies.
Extensive cultural research on Aboriginal communities to build a cultural tie and the betterment of inclusive health policies.
Implementation of inclusive learning policies.
Share and exchange of ideas and experiences.
Enhancing Child development policies and valuing cultural and personal identity.
Modelling of Cultural safety in Individual Nursing corpus.
Strategy development for the growth in Cultural safety
CHCECE001 and CHCDIV002 Assessment Tasks
In this assignment, many questions are to be answered in addressing the purposes aforementioned. Some kind of intricacies and expertise both in selecting words or keywords and data are required in answering all these questions. You can avail our nursing assignment writing expert's assistance in understanding and developing an idea of how to answer these questions. Sometimes, professional help for writing assignments on this kind of critical topic like 'CHCECE001 Cultural Safety' can be quite helpful for achieving the top grades in this unit.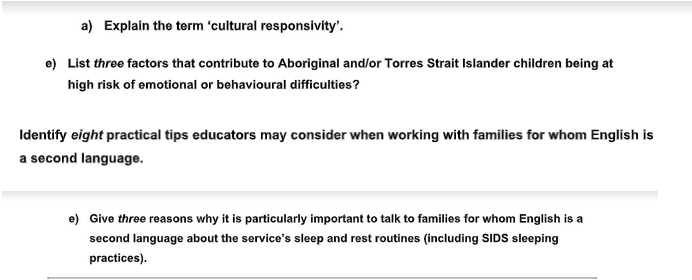 How to define cultural competence in the Early Years Learning Framework (EYLF)?  
To define cultural competence in the context of EYLF, we need to focus on the stages of knowledge development among the children of Aboriginal communities. This requires proper channelization of your cross-cultural perspectives into another Cultural system. Some policies, attitudes, and behavior in constructing a system are required to be understood as a course of your study. Not only ethnicity but a gross requirement of understanding and evaluating various critical perspectives of the life of the aboriginal children may add an extra brownie point to your answer.
How is respecting diversity explained in the EYLF?
To explain diversity in the EYLF, our nursing assignment help expert suggests you explore the facts and ideas about multiplicity within a set of aboriginal people. Understanding of various clans and groups can help a researcher develop the notion of diversities because children belonging to various clans and groups are brought up with different stories, beliefs, and customs. It's important to address those as an educator to vindicate multiplicity of the cultures in various aboriginal clans and groups. The clustering of various groups and developing inclusive education policies are also important in respecting diversity in the context of EYLF.
Different curriculums need to be prepared and amended by an educator for various purposes like developing creating and cognitive growth of aboriginal children and to identify the significance of their own culture and community. These curriculum amendments should aim in enhancing the learning as well as to develop their social, emotional, and physical growth.
What do you mean by 'Cultural Responsibility'?
It is defined as someone's ability to learn from different cultures and relate himself to his own as well as different other cultures. There are various concepts of Multiculturalism and Cultural competence need to be emphasized to explore the sensibility and knowledge of Cultural responsibility. There are various other questions to be addressed in the entire assignment that requires a lot of research in the field of Cultural studies and expertise in the fieldwork and appropriate data collection.
What are some visual aids and/communication strategies that could be used to build relationships with families for whom English is the second language?
Visual aids or communication strategies are always beneficial for children from various Aboriginal communities to develop ties with families. New technologies in the new domain of Cultural Studies should always be strategized to help children balancing both the academic and family lives. Here are some ways out.
Pictures, photographs, and charts to describe daily routines.
Creating better assistance for the family for developing an official idea of where to report and how to proceed.
Hanging a big table on the wall to keep remembering about the dates and other information of meeting days for parents of each child.
The guidelines for how to come in the secured areas of a building.
Multilingual telephone service to connect families from various aboriginal linguistic groups.
There are many more strategies used by our nursing assignment expert to write the CHCECE001 and CHCDIV001 assessment answers. You have to be plugged into with the knowledge and facts of ongoing research on communication strategies to apply them practically. Better guidance can always be expected from qualified expert academicians. Inquire at My Assignment Services any point in time.
Give three reasons why it is particularly important to talk to families for whom English is a second language about the service's sleep and rest routines (including SIDS sleeping practices)
It is important to prioritize the specificity and customs of another culture. It's important to lap up children with the utmost care when they are to be relocated from their cultural systems to the other alien system. It's necessary to ratify the communication strategies with the parents so they can be updated with any such problems that may take place with their children. Routines need to be developed properly and the parents need to be informed about the same as they can better communicate and help the children to be adapted with the system.
I Need To Save My Time As I Am Equipped With Various Practical Tasks. Also, I Don't Want To Negotiate With The Quality Of My CHCECE001 -CHCDIV001 Assignment. Can You Help Me?
My Assignment Services is the one-stop solution for you. You will get your CHCECE001 – CHCDIV002 nursing assignment prepared by adept academicians with diverse and extensive research experiences in your field. They can work at a fast pace as they have the expertise and training to do so. You can heave a sigh of relief as your assignment will be delivered before the deadline for sure. It's your choice whether you are supposed to meddle with the assignment in your busy schedule or you are going to let our experts do the same to save your precious time and workload.
Let's have a quick overview of our assignment help services:
We provide 24*7 services as we understand the pleas and urgency of the students.
Expect top-quality and 100% plagiarism-free assignments from our distinguished academicians in My Assignment Services.
Student-friendly price for each assignment and attractive discounts always mitigate the extra drainage of your hard-earned money.
We do manual proofreading as we believe that software can never understand the context of the words used. Manual proofreading requires great expertise in the English language that our expert proof-readers have.
Live chat with our academic experts and revision facilities from My Assignment Services for multiple times enhance the option of interaction to suffice a student's curiosity.
Looking for Assignment Help?
Get it done Today