Much has been said and written about "how to write a review essay"; the internet is over-flooded with the information on it. But the fact remains; much to the confusion of students that writing an academic review essay in its varied forms and shapes and especially with the diversity of essay assessment questions that are fired at students: courtesy of the faculty of top universities in the UK; Review Essay Assignments boggle most university scholars. Does it go beyond its structural format? Is it different from a literature review? The queries just keep coming.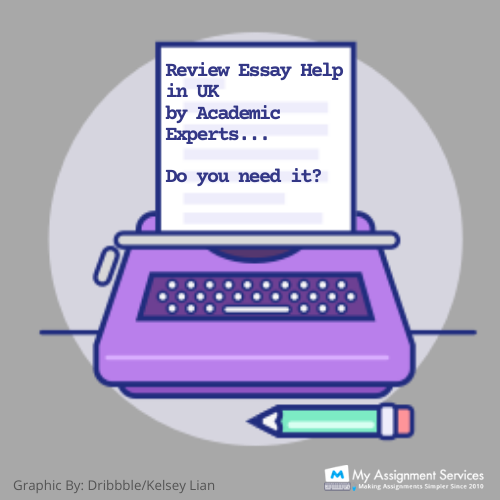 During my last three years as an essay help expert at My Assignment Services, UK, I have answered endless student questions and let me share some of them with you.
Review Essay – Coursework v/s Homework
A common mistake in this arena is to deploy the same methodology when writing a review essay on recent coursework readings (often given as short term assignments commonly referred to as homework help in the UK) vis-à-vis providing a critique on a particular author's work or a collection of their writings.  A review essay assignment may also include analysing a research topic of your choice by comparing work of different authors on that very subject, such review essays are commonly given as long term assignments and will map your academic proficiency not only through your writing skills but also on your research skills.
Is Literature Review different from a Review Essay Assessment?
Let me also make it clear here, before we move ahead to discuss how to approach academic review essays. Review essays have little similarity with the Literature Review Section of an essay. Although a review essay in itself is a written critique on a single piece of literature or a collection of writings on a single topic unlike the Literature review of an essay, it is an individual assignment task, mostly assigned as a long-term assignment in the UK and uses literature to justify the presented arguments or to gouge the viability of the research topic.
Post Graduate students who are curating their thesis, dissertation or Graduate Scholars when writing research reports seek review essay help to establish their academic expertise in the research area of their choice thus creating a road map for their detailed thesis or dissertation.
So Coming Back to the Burning Question; How do You Write A Review Essay Perfectly?
As a long term serving Academic Essay Expert in the UK, I have first-hand witnessed the utter confusion of students when writing review essays for their college coursework. Let me first classify the common assessment criterion of review essays and later we will discuss a live review essay sample edited by me in 2019 for a university student in Australia.
Are you writing a review essay on a single piece of literary work?
Now that you have chosen the work to be examined, you need to give the best version of the author's clear point of view; what is the basic idea or concept of the writing? Go an extra step in describing the writer's argument. Create a synopsis that highlights additional or new information the particular work has displayed on the central topic.
How to write while comparing different works of one author in your review essay?
When writing a comparative analysis of an author's different writing or books. Keep in mind; your personal choice does not matter. You may not like but are required to give an honest comparison of the writers various influences and the growth (in some cases even decline) by portraying writings at different stages of their creative development. A review essay such as this will focus equally on the writer as on his concepts and ideas.
When Writing A Critique on A Topic or A Research Concept. What is the Right Way? 
The ideal way to approach such review work is to decide on a topic and choose two literary works that have an entirely different point of view. Trust me! The information that can be revealed while representing strong arguments is mostly under-rated.
For instance, if you are citing a work by a flat earth theory supporter, try and explain what facts and concepts a flat earth theory denier writer use to nullify the former.
Be the narrator rather than being opinionated. Your essay should reflect on how the debate on this particular topic has evolved over the years and use concepts and theories, articulately to prove your point.
What is the Correct Format to Write A Literature Review Essay?
Let's consider a review essay sample given below. The assignment task objectified the learning outcomes of a Review Essay and gave limited options to choose from topics and reference material.
The Task:
The assessment allowed only a set of topics that a student may choose to write the review essay. Take a look at screenshot #2.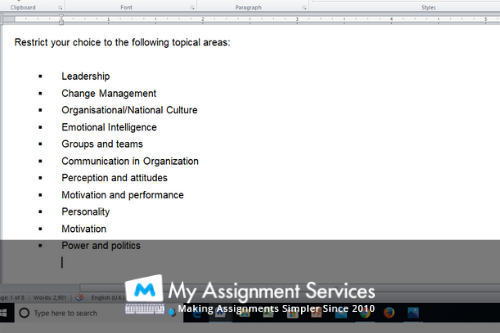 Once we start examining the solution, you will see that an essay help expert has done full justice to the learning objectives of this coursework task while taking utmost care of presenting the review in impeccable English and grammar. A standard review essay must contain a good introduction, Summary of the cited work, a detailed critique and finally a well-derived Conclusion that justifies your argument with an irrefutable conclusion statement.
Taking the "Motivation at Work" as the key topic, we have written a critical review on Human Resource Management Theory whilst providing a detailed introduction, a constructive critique and further a comprehensive conclusion that reflects a profound understanding of the research done in the field of Human Resource Optimization.
By citing the Leadership Journal of Leadership studies, in this review essay, we have started our argument with a concept known as "12 Roman Gifts that encourage motivation" and have kept the limelight on the inducing "Self-Motivation" amongst employees.
Some other writings that were used for reference in this essay:
"Application of Herzberg Two-Factor Theory Model for Motivating Retail Salesforce" (VV Devi Prasad Kotni, 2017)
"ANOVA tests with the help of Seven Scale instruments of 4177 contestants" (DellaVecchio, and Winston, 2015).
"The Influence of Organizational Commitment on Work Motivation: A Comparative Study of State and Private University Teachers" (P Kamal, 2017)
To substantiate the argument, an essay expert has described the "Difference of Opinion" in a detailed manner. (See screenshot #3)
A good review essay needs acme writing skills, proofreading abilities, and last but not least a detailed and accurate referencing page that displays all used resources in the academic format of APA, MLA or Harvard ( as demanded by the university).
Review Essay Conclusion; The last impression is important here
It's all about giving credit where it's due. The conclusion statement of your review essay is a prime component. Chart out the entire summary of your presented arguments and deduce a clear inference that is both reasonable and an academic rationale. Let's have a look at screenshot #4.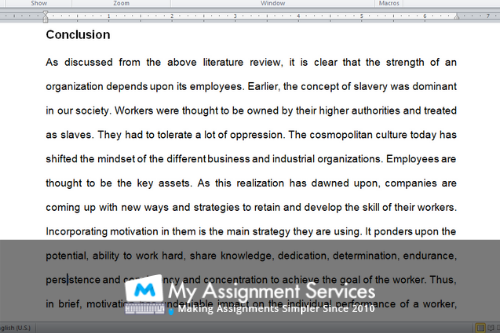 Get your review essay edited online by a Ph.D. expert. Essay Help in the UK is right around the corner
Need an essay as well written and researched like the given sample? Don't overthink it, Contact us at My Assignment Services to guide you in doing so. We are available 24×7 and ever eager to help scholars from around the world.
Looking for Assignment Help?
Get it done Today