Human relationship is another name of Human resources as the professionals of human resource are to deal with the employees including themselves. It must be a job with dignity and a sense of humanity as they are to find the problems of all the employees and take care of their pleas, as well as to support the company to grow to utilize the most important resource for a company that is Human Resource. This job can never be replaced by any machines because the most important task of Human Resource Management is to humanize!
The task in King Edward VII college assignment is to develop a strategic human resource management program for setting up a new campus of this college. Let us take a look at what should be some prerequisites for the project of King Edward College.
To develop a basic human resources information system
Induction of limited duration for the beginners
No such formal systems in job analysis and design
Different policies have to be strategized for the occupational safety for the employees of the new campus
To create a basic database and program upon performance management for all the employees from various departments
To accommodate the professional development program for the existing employees
To recruit new employees as per the criteria and requirements
This is a basic task to create and evaluate all the databases and research upon them to get the best outcome in the corpus of strategic management. Some problems like creating a database, calculating and measuring documents as well as applying various theories will have to be faced but these can be mitigated with the help of an academic expert from the field of Strategic Management. You can contact My Assignment Services for the best consultation.
Can You Help Me Understand How To Prepare The Assignment?
The first thing that you may have to consider is that it is a business assignment and the professional approach is a must. Six questions are aiming to understand your professional skills, understanding of Human Resources theories, and how you are implementing them. The approach should be practical. You have to prepare a strategic and operational plan that you have to present in front of the CEO and Managers. You have to conduct good research on various strategies and, extract significant information and recommendations to prepare a professional strategy for the project. Avail our management assignment help if you ever feel like having a helping hand from an expert.
Here are some points to be mentioned about what you need to inculcate as an important task.
An overview of the Kind Edward VII college requisites on human resources for the last three years. This must include strategic and operational plans, information of the workforce, and the complete dynamics.
A review and analysis of emerging trends in human resource management in King Edward VII College. This should include a review of the technological advancements of the management and the system of the staff.
You need to consider some recent legal paradigms of King Edward VII College
A review of the complete database of the employees
The philosophical values and marketing contents of the college should be revisited to create a strategic management program for the staff and to ace the complete accommodation.
I need to understand some concepts like strategic risk and risk management in detail? How am I supposed to implement them in this particular case study?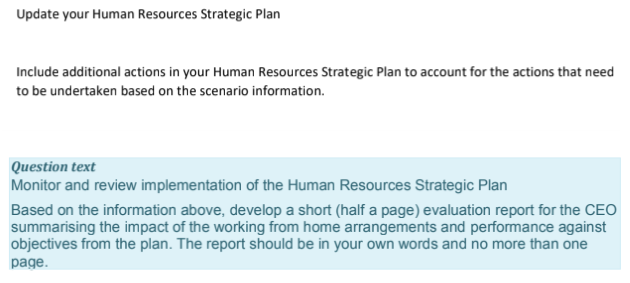 While developing the new campus for King Edward VII College, there must have some potential risks in the process of implementation. Strategic risk is the potential risk that needs to be measured while strategizing the human resource plan. The main task of an HR here is to identify, calculate, and mitigate the risks. Here are some important strategic risks, you cannot undermine.
Legal changes
Technological changes
Management turnover
You have to create an artificial dialogue with the Operational General Manager to implement the ideas to reduce strategic risks. You have to briefly underline the Actions, Budget proposal, Responsibility, Performance indicators, and Deadline to prepare a comprehensive and professional project.
It is proven for the students of strategic management that they face glitches in preparing the project for the following reasons.
Lack of program overview and detailed ideas of the project
Lack of experience in formatting the project
Problems in collecting authentic data
Can You Help Me Write My Strategic Management Assignment?
Yes! We have qualified strategic management assignment help experts who will assist you in writing this King Edward VII College assignment. Our assignment help services offer 24*7 support, time to time review system, revision opportunity, chances to interact with the academic experts, good quality research, and professional assignments. At My Assignment Services, all of your queries will be resolved within minutes.
How economical My Assignment Services is?
We keep giving discounts throughout the academic session. Apart from discounts, you may earn while learn with us. You just have to refer our services to your friends if you are satisfied with the assignments provided by us.
Can I get a testimonial of the authenticity of the assignment I am going to receive?
Yes. You will. Assignments prepared by our academic experts undergo 21 quality checks. To top at all, the Turnitin certificate will be attached to your copy as a testimonial of the authenticity of your paper. We have aggravated repute for our company so far, for providing quality assignments to a galore of students. We also have a team of experts who will proofread your strategic management assignments.
Looking for Assignment Help?
Get it done Today